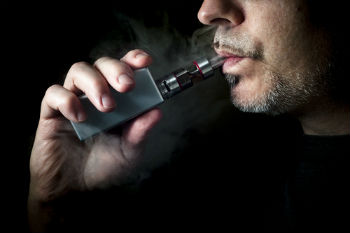 Cheap and imported vaping kits have led to an increase in the number of smokers injured by 'exploding' devices, health experts have warned.
Burns surgeons at Morriston Hospital said they have treated five patients for burns after their e-cigarettes exploded. They have joined forces with trading standards and fire chiefs to highlight the dangers of inferior kits.
Consultant plastic surgeon, Dai Nguyen, said: 'Before this year we hadn't seen any injuries like this. Now we have had five which reflects the rising popularity of these e-cigarettes.'
Trading standards officer at Swansea Council, David Picken, urged people not to be tempted by cheap imports.
'These chargers have not been constructed to the correct safety standards and are often counterfeit,' he said.
He said smokers should ensure the e-cigarette is labelled correctly and check if it has a visible CE mark.