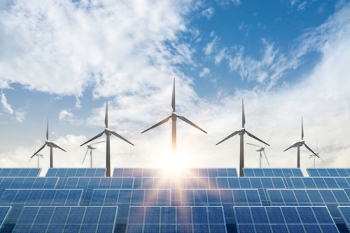 The Government is to reform planning regulations in the hope of boosting the nation's energy supply.
The British Energy Security Strategy aims to reduce reliance on imported energy while shifting to renewable, low carbon methods of supply.
In an effort to increase the amount of energy produced through offshore wind, the Government has said it will introduce reforms to the planning system that it says will 'radically' cut approval times from four years to 12 months.
Onshore wind power will also be increased by 'developing partnerships with a limited number of supportive communities', under which they will benefit from guaranteed lower energy bills.
Rules on fitting solar panels to domestic and commercial rooftops are also to be targeted in a bid to raise capacity fivefold.
Prime Minister Boris Johnson said: 'This will reduce our dependence on power sources exposed to volatile international prices we cannot control, so we can enjoy greater energy self-sufficiency with cheaper bills.'
Further planning overhauls could be required to realise another of the strategy's commitments to deliver up to eight nuclear reactors by 2030.
Head of Policy at Blackstock Consulting, Joshua Carson said regulation of Nationally Significant Infrastructure Projects would need to be looked at.
He added: 'Excess and often roundabout local consultation, which can take over a decade in some cases, is one a series of constraints to delivery which needs serious re-examination if we're to tackle energy security with the urgency the government is suggesting.'
The strategy has faced opposition from Friends of the Earth, who advocated reducing energy consumption by giving local government a leading role in insulating homes.
Campaigner Danny Gross said: 'Households are facing soaring bills and need help right now. The quickest way the Government can do this is through renewables and funding a council-led, street-by-street free insulation programme.'
Prior to the unveiling of the strategy, the Government announced a review of fracking to look at the effectiveness of recent developments in reducing 'seismic events'.
It follows the rescinding of an order by the North Sea Transition Authority watchdog to concrete over two wells in Lancashire, which would effectively end any chance of extraction there.
Energy Secretary Kwasi Kwarteng said the current moratorium on fracking would remain in place unless it could be proven to be 'safe, sustainable and of minimal disturbance to those living and working nearby'.
He added it would take 'years of exploration and development' and 'have no effect on prices in the near term'.