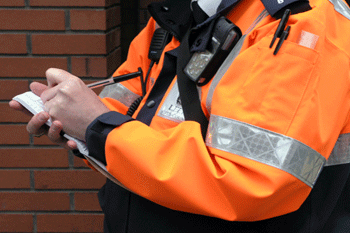 All motorists adhering to Traffic Regulation Orders; just about the right number of parking spaces for everyone; all vehicles powered by water; and a road network that eliminates any risk of congestion. That's not asking for too much is it?
Of course, it's all very well aspiring to a utopian dream, but the reality is that we don't live in a perfect world and the only thing we can be really sure about is that nothing stands still (and of course death and taxes). It's how we manage the inevitable imperfections and the constant changes that will determine the social and environmental framework within which we live our lives and pursue our own goals.
With the number of cars on the UK roads now equating to half of the country's total population, it's no wonder our road infrastructure can't keep pace and is now not only bursting at the seams but also crumbling under the pressure. So the real challenge is to predict and manage road usage and repair in order to maintain the best possible traffic flow as well as the safety of all road users at all times.
Water-powered vehicles may well become a reality in the years ahead. Until then, however, our own wellbeing is dependent on us minimising the emissions from our 32 million internal combustion engines. And, we all know that limitless availability of parking spaces is a pipedream. When it comes to parking our cars, therefore, the real task is to ensure the fair allocation of a finite resource so that everyone can access our major centres of commerce, leisure and social interaction conveniently and responsibly.
Quite simply, in an imperfect world, it's not easy to maintain traffic flow, accessibility and safety for all road users at all times and in all circumstances – especially when the variables are constantly conspiring to compound the pinch points. It becomes more like a delicate balancing act, where strategic ideals are overwhelmed by evolving priorities for delivering the best possible sustainable outcomes.
Indeed, the pursuit of sustainability is a key factor. In fact it's the one area in transport planning that can remain a relative constant – providing an unequivocal and reliable benchmark and reference point within any transport planning conundrum.
But sustainability, guaranteed accessibility and assured safety will only become a reality if the basic rules of the road and traffic regulations are adhered to by all road users. The best possible regulations and the very best sustainable transport strategy will all count for nothing if motorists park where and when they want, dismiss the health risk of emissions in built-up areas, ignore vehicle restrictions in pedestrianised zones and consistently flout other road regulations and traffic orders. Regrettably, there will always be those selfish, irresponsible or inconsiderate motorists who pay little or no attention to the regulations. So it's essential that steps are taken to encourage and optimise compliance within any sustainable transport programme.
Limited resources and a widely-held view that more serious criminal offences should be given priority by the police, has led to progressive decriminalisation of many local enforcement responsibilities since the mid 1990s. The transition to this new decriminalised world of enforcement has not been without its own challenges, but the benefits have been considerable – especially in driving up compliance. More comprehensive and visible enforcement of parking and moving traffic offences has helped to minimise congestion and pollution, increased the turnover of parking spaces and reduced highway obstructions. It has also reduced the demand on police time. But that's not the end of the story.
The response to a parliamentary question last year revealed that the number of traffic police in England and Wales had fallen by 23% over the previous four years – representing a decrease of no less than 1,279 officers. And we all know that police budgets continue to be under extremely close scrutiny, with further financial restrictions an inevitable consequence of ongoing austerity measures.
Meanwhile, the calls of safety campaigners and concerned residents have led to many local authorities introducing more and more 20mph zones – especially in heavily built-up areas and around local schools. While such efforts to make streets safer are understandable and to be applauded, the failure of motorists to adhere to the new speed restrictions remains a criminal offence.
Although the powers of enforcement lie with the police, it is fanciful to expect the police to cover these new areas when it was acknowledged nearly twenty years ago that they don't have the resources to cover other more established local enforcement duties. To maximise compliance with the speed limit therefore requires an alternative approach if it is not to be just wishful thinking and a hollow political gesture.
Improved compliance with many moving traffic regulations in urban areas - such as banned right/left turns, bus lane contraventions and the obstruction of yellow boxed junctions - is already being achieved through civil enforcement measures within existing legislation.
The initial catalyst was the Road Traffic Act 1991, but the scope for effective civil enforcement was been further extended in the Traffic Management Act 2004 as well as the Anti-social Behaviour, Crime and Policing Act 2014. Building on the success of this broader approach to civil enforcement in improving the compliance of motorists and other roads users in and around our towns and cities, perhaps it is now time for a further extension to include lower end speeding enforcement.
Reckless high speed motoring offences should always be a matter for criminal prosecution – and, therefore, a police matter - given the seriousness of such actions. But controlling speed in a 20mph zone is a much more localised matter where a visible enforcement presence is just as important for encouraging compliance as any effort to punish offenders. Indeed, such a presence already exists in many areas in the form of Civil Enforcement Officers (CEOs) and mobile CCTV vehicles assigned to patrol around the entrances of local schools – although there is no responsibility for targeting new speed restriction areas and they are powerless when it comes to addressing speeding offences.
It's not realistic to expect the police to patrol and enforce the growing number of new 20mph zones when their resources and budgets continue to shrink. In any event, it would lead to a degree of unjustified duplication and potential conflict with other local enforcement activities. The introduction of new local speed control zones, therefore, risks becoming a laudable but ultimately futile exercise. Yet, if civil enforcement could be adopted within these zones, it would be a simple and logical extension to the duties of a patrolling CEO to be seen not only to monitor adherence to the speed limit but also to issue warnings and fixed penalty notices to any offenders.
In other words the local authority would be responsible for managing the control zones they themselves have created in the best interests of their local communities. The regular presence of a CEO would be a reliable, more frequent and visible deterrent to encourage drivers to respect the speed limit. Moreover, the evidence from other areas of civil enforcement suggests the immediacy and impact of a financial penalty will help to rectify such irresponsible behaviour and, consequently, deliver a dramatic improvement in compliance. And, such positive outcomes will be achieved without any further strain or unrealistic expectations being placed on the police.
Given the success in driving up compliance in areas as diverse as moving traffic, parking, littering and dog fouling, it's not so surprising there's now much debate and discussion concerning the potential benefits of an extension to the current scope of civil enforcement responsibilities. Personally, I consider it is just a matter of time before such a move is formalised as persisting with the status quo is not a viable option – diminishing police resources on the one hand and an increase in the number of areas requiring enforcement on the other just doesn't add up.
Nigel Coltman is executive director at NSL