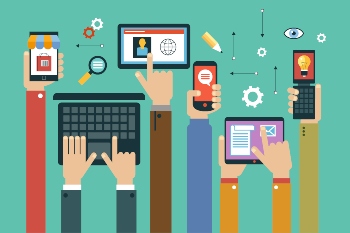 Britain's communities have shown remarkable resilience throughout long months of lockdown, but the recovery process is likely to present yet another collective challenge. The long road ahead will demand that community members and local authorities work together in pursuit of social and economic recovery.
With existing levels of citizen participation in local democracy already critically low, mapping the path forward will require councils to pioneer effective, adapted mechanisms through which residents' voices can be heard.
Postponed local elections are tentatively scheduled for this May; meanwhile, opportunities for citizens to physically participate in bottom-up initiatives and democratic processes (town hall meetings, debates, hustings, etc.) have been severely curtailed.
If we are to take any useful insights from the Handforth Parish Council Zoom debacle, it's that simply transferring traditional meetings to online spaces through existing video tools is not enough to encourage democratic dialogue. Although people are often keen to contribute to the local decision-making process, attempts can be stifled by intimidating spaces, outdated tools, a lack of moderation, and a lack of transparency. The viral video is a classic example of two of the main flaws of traditional consultation methods: demographic uniformity and inappropriate online tools that favour the loudest person, thus making it easier to create opposition than consensus.
The data backs up the inefficiencies of the current democratic landscape: according to the Government's 2019/20 Civic Engagement and Social Action - Community Life Survey, only 24% of 24-35 year olds in England believe they have the power to influence local decision making. In that same cohort, only 17% participate in any form of civic consultation. Proactive action is sorely needed to educate and encourage people to be civically engaged: we simply cannot afford to lose a whole generation to political apathy. One way to do that is by seizing emerging opportunities in the civic tech space to promote informed, devolved, people-first decision making.
However, this is not a moment to mourn the ailing mechanisms of local democracy that characterised the 'old normal'; now is a moment to seize the new opportunities emerging on the horizon. First amongst these emerging opportunities is the growing civic tech space.
Civic tech refers to technology that enables engagement between residents and their government by facilitating communications and collaborative decision making. Examples range from online platforms for the submission of ideas for more bike-friendly neighborhoods to city-wide participatory budgeting projects.
In East London, 2020 saw Newham's council - previously focused on offline participation - seize digital engagement opportunities for resident consultation. They refused to let social distancing put pause to the involvement of citizens in multiple urban planning and regeneration projects, such as the Queen's Market Good Growth Programme - a £5.3m initiative to redesign the Queen's Market and the Queen's Square, and provide affordable and high-quality spaces for work, culture, and creativity.
By rapidly establishing an online platform on which citizens could be educated about the projects, contribute ideas, and vote on proposals, Newham council succeeded in re-engaging the very same community members who would have their lives directly impacted by the regeneration. A multi-stranded publicity campaign drove traffic to the online portal, whilst offline opportunities for participation (comment boxes, multilingual information packs, phone lines) kept the outreach inclusive.
Going forward, councils across Britain should reflect on local learnings from places like Newham as well as from global good practices to 'build back better'. For instance, as local government budgets recover from the shocks of the pandemic, we can look to examples of successful participatory budgeting campaigns to guide us. In Chile, the Municipality of Peñalolén concluded their digital participatory budgeting project in April under the slogan ¡En mi Barrio, Yo decido! (In my neighbourhood, I decide!). By allowing residents to submit and vote on ideas via an online platform, the municipality received direct input from 10% of the population on the allocation of 500,000,000 pesos (approx. £500,000) to ten different community projects. By replicating these socially-distanced engagement strategies, councils in Britain could further benefit from the same surging participation rates in their own communities.
Britons from across the socio-economic and demographic spectrum are actively expressing their appetite for political participation - 'building back better' will hinge on their engagement. The civic tech world is ready to support localities in this mission - now it's the job of local leaders to harness these opportunities.
Lora Botev is business development manager at CitizenLab