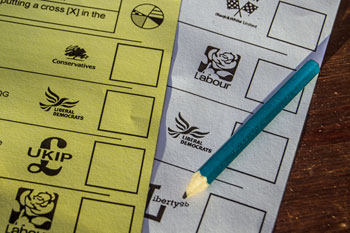 Assisted Voter Registration (AVR) could deliver a more inclusive democracy, researchers at the University of East Anglia (UEA) have found.
The new report, published by the Joseph Rowntree Reform Trust, warns that around nine million eligible voters are 'missing' from the register.
It makes 28 recommendations to modernise the UK's electoral system.
The researchers estimated that 6.5 million people per year could register to vote when applying for a passport, while four million could register when they update their drivers licence address.
However, it warns that any move towards AVR would need to consider data concerns such as the ability to register anonymously.
Prof James, a professor of politics and public policy at UEA, said: 'Political equality is a founding principle of democracy and policies to make voting accessible are therefore needed to ensure a level playing field.
'Some form of automatic or assisted voter registration could boost voter registration rates amongst under-represented groups to create symmetry in the UK.'