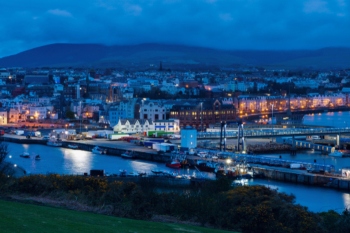 Eight locations have been awarded city status as part of the 2022 Platinum Jubilee celebrations.
Colchester, Doncaster and Milton Keynes in England, Dunfermline in Scotland, Bangor in Northern Ireland, and Wrexham in Wales have been given the royal honour this year.
For the first time ever, the competition for city status was open to applications from the Crown Dependencies and Overseas Territories, with the Falklands' Stanley and Douglas of the Isle of Man among the winners.
Chancellor of the Duchy of Lancaster, Steve Barclay, said: 'I am delighted that a record number of locations have been awarded the prestigious city status as part of Her Majesty The Queen's Platinum Jubilee Celebrations.
'What was clear to me during the process of assessing each application was the pride that people felt for their communities, local cultural heritage and the Royal Family.
'As we celebrate Her Majesty The Queen's colossal contribution to society, I am thrilled that we are able to recognise some of the many places that make Britain great.'
Research shows that Perth's economy grew by 12% in the decade since it was granted city status in 2012.