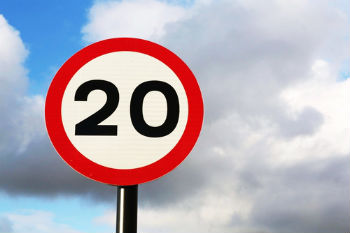 Eight areas in Wales have been chosen to pilot a default 20mph speed limit on residential roads ahead of the full rollout in April 2023.
The Welsh Government is introducing the new speed limit in a bid to improve safety and make room on streets for active travel.
The pilot schemes - chosen to be representative of different locations across Wales - will help develop enforcement arrangements and communicate the value of the new speed limit to local communities.
Lee Waters, deputy minister for economy and transport, said: 'Making 20mph the default speed limit in residential areas is a bold step that will save lives.
'We have made progress on reducing deaths and serious injuries on our roads over the 21 years of devolution, but despite our considerable efforts the highest proportion of all casualties, 50%, occurred on 30mph roads during 2018. This cannot be tolerated, so a reduction to 20mph on our residential and other busy pedestrian urban roads has to be the way forward.'
A national public attitude survey found 92% of those who wanted a change to the speed limit on their street suggested a speed limit of 20mph or lower.