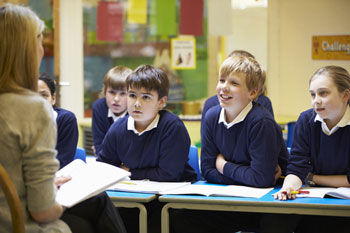 Ofsted says it is calling time on a culture of 'teaching to the test' as the schools watchdog launches a consultation on proposals for changes to its inspection framework.
These proposals have, however, been met with criticisms from school leaders, who say they are not the 'game-changer' they had hoped.
Under the current system, schools focus heavily on helping pupils achieve high test results in order to avoid receiving a poor rating from an Ofsted inspection.
Ofsted's own research has revealed, for example, that in many primary schools, rather than read a wide variety of books, pupils are required to read the same texts repeatedly to ensure that they test well.
At GCSE level, the watchdog's research also found, pupils are being pushed away from studying EBacc subjects such as history, geography, French and German, and towards qualifications deemed to be 'easier'.
Published today, the consultation proposals emphasise the importance of the curriculum, and the wider educational context, while moving away from an over-reliance on performance data.
If the proposals are approved, Ofsted will place a new 'quality of education' judgement — with the curriculum at its heart — at the centre of its inspection framework.
The watchdog will also drop the use of schools' internal performance data as inspection evidence to ensure inspections do not create unnecessary work for teachers.
There will also be separate judgements about learners' 'personal development' and 'behaviour and attitudes', and on-site time for short inspections of good schools will be extended to two days.
Launching the consultation, chief inspector Amanda Spielman said: 'The new quality of education judgement will look at how providers are deciding what to teach and why, how well they are doing it and whether it is leading to strong outcomes for young people.
'This will reward those who are ambitious and make sure that young people accumulate rich, well-connected knowledge and develop strong skills using this knowledge.
'This is all about raising true standards. Nothing is more pernicious to these than a culture of curriculum narrowing and teaching to the test.'
Nick Brook, deputy general secretary of school leaders' union NAHT, welcomed the end of Ofsted's 'obsession with data', but warned the proposals do not go far enough.
'In its current form, this proposal from Ofsted will cause widespread concern amongst school leaders,' Mr Brook said.
'There's nothing here that will reduce stress and increase the reliability of judgements, which many say is sorely needed. This is not the game-changer that many have hoped for and some had predicted.'
'England has one of the most highly regulated education systems in the world, which is limiting schools' ability to deliver a first-class education,' he continued.
'If we want to compete with the very best countries in the world, we need to urgently rebalance holding schools to account with helping them to improve.
'With limited resources, the inspectorate should be focusing the majority of its time and energy on the small minority of schools that are struggling whilst maintaining a light touch approach to the majority of schools providing a good quality of education.'
Mr Brook warned that a lot of the new proposals were open to interpretation which could leave schools 'second guessing' what they are supposed to do to be seen as successful.
'Not only that, there is a very real risk that subjective views of inspectors will lead to inconsistent judgements,' he added.
'This makes it difficult for parents who want to be confident that the information that they are using to make important decisions about their children's future is fair and comparable.'