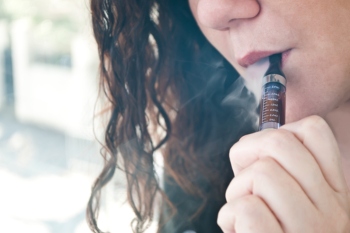 England could become the first country in the world to prescribe e-cigarettes in a bid to reduce smoking rates.
The Medicines and Healthcare products Regulatory Agency has set out how it will work with manufacturers to assess the safety and effectiveness of products.
If approved, clinicians will decide on a case-by-case basis if an e-cigarette should be prescribed to NHS patients.
The move is part of the Government's ambition for England to be smoke-free by 2030.
Health and social care secretary, Sajid Javid, said: 'This country continues to be a global leader on healthcare, whether it's our COVID-19 vaccine rollout saving lives or our innovative public health measures reducing people's risk of serious illness.
'Opening the door to a licensed e-cigarette prescribed on the NHS has the potential to tackle the stark disparities in smoking rates across the country, helping people stop smoking wherever they live and whatever their background.'
Figures show there still are around 6.1 million smokers in England, with stark health disparities in smoking rates across the country.