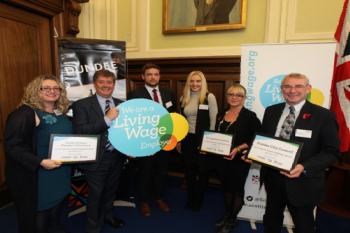 Dundee City Council has won this year's Living Wage Champion Award for Local Authority Leadership.
Midlothian Council was among private and public sector organisations shortlisted for the award, given to employers and individuals who have 'made outstanding contributions to communities and industries by implementing and celebrating the Living Wage'.
Dundee was commended for its 'strong leadership amongst local authorities in furthering the reach of the Living Wage.'
Scotland has one of the lowest proportions of workers paid less than the Living Wage, 18%, compared to 26% in Northern Ireland, the region with the highest rate of non-living wage jobs, while only the South East has a lower proportion at 17%.
Lynne Short, convener of Dundee City Council's city development committee, said: 'In Dundee we are proud that the city council is a Living Wage employer and of the work we have been doing to encourage suppliers, contractors and other public bodies in the city to become accredited.
'It's great that this award as Living Wage Champion has officially recognised and paid tribute to the work and dedication of so many committed and caring people.'