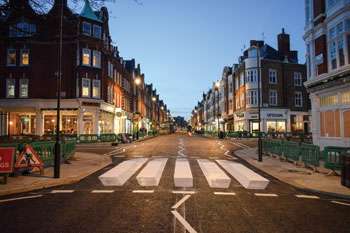 The first Zebra crossings began appearing on Britain's roads 70 years ago as part of a trial by the Ministry of Transport and Transport Research Laboratory before they were officially rolled out in 1951. Now a familiar sight on our nation's streets, it is easy to forget the important role they play in road safety, ensuring vehicles and more vulnerable road users can co-exist.
While we can laud past achievements, we should never become complacent on road safety. According to statistics published by the Department for Transport, nearly 3,700 people were injured or killed on road crossings in 2017.
Working with Westminster City Council and WSP, we recently set out to explore how the design of highway crossings could be developed to encourage traffic calming, as part of regular maintenance works delivered in the borough. The result has been the introduction of the UK's first '3D' road markings – an optical illusion but one with the power to help improve safety for drivers and pedestrians.
With WSP, we are responsible for delivering highway maintenance and improvement projects for Westminster City Council. The idea to try something different for road markings came as part of routine resurfacing works for St John's Wood high street, in the north west of the borough. Having assessed the area's needs and resident feedback, it became clear to the team that this popular thoroughfare required a new Zebra crossing, not least to support the growth of schools in the local area.
It was an opportunity to consider something different and WSP highlighted examples of new 3D-style crossings that have been introduced in other parts of Europe. By appearing to be obstacles in the road, the designs encourage drivers to lower their speeds when coming up to crossings, ensuring they can stop in time if a pedestrian is about to cross.
After consultation with Westminster City Council, we decided to trial the new approach on Sutherland Avenue, just off the high street. For the illusion to work, we needed to experiment with the laying technique and the colour of the markings' 'shadow' so that they would appear realistic. After a successful trial, designs were confirmed with the manufacturer of the thermoplastic markings that would be installed on the high street.
These pre-fabricated products were laid by FM Conway and then heated to permanently fix them to the road surface. Westminster City Council will be monitoring the new crossing over the coming months to assess its impact.
With some clever use of perspective, this project could help to reduce traffic incidents on Westminster's streets, making it a safer place for drivers, pedestrians and cyclists. It's a reminder to us all to always keep asking how we can do things better. Sometimes the most effective innovations are the simplest. n
Oliver Scutts is contracts manager – specialist surfacing at FM Conway