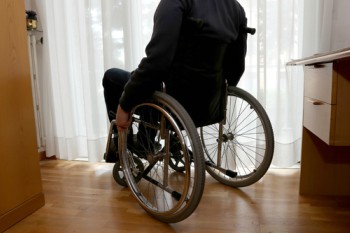 Figures have shown that six out of 10 people who died from COVID-19 last year were disabled.
The ONS data reveals that disabled people have been disproportionately affected by the virus, leading to calls for a review of the support available.
Mehrunisha Suleman, senior research fellow at the Health Foundation, said: 'Today's figures clearly show that current measures to protect disabled people are not enough and that there is an urgent need for more and better support. Disabled people are more likely to have one or more long-term health conditions, which means they are at greater risk of suffering severe symptoms if they get COVID-19.
'However, as well as protecting disabled people from exposure to the virus, measures must account for the potential negative effects of lockdown and shielding. A significant number report that, due to lockdown, their health care needs are not being fully met or that they had treatment cancelled or delayed.'
Cllr Ian Hudspeth, chairman of the Local Government Association's Community Wellbeing Board, said: 'Every death from this dreadful virus is a tragedy and it is particularly harrowing to see that disabled people have been disproportionately affected.
'Protecting our most clinically vulnerable people has been councils' number one priority throughout the pandemic, delivering a wide range of support such as access to food and medicine, mental health services and meeting social care needs, as well as helping those who are in or at risk of financial hardship.'