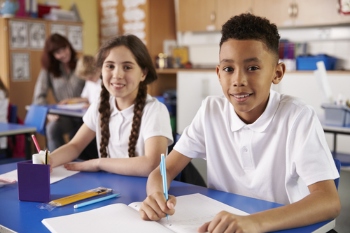 Children's well-being in 2021 saw improvements when compared to the year before, but research suggests there was a decline in the well-being of young people over the 10 years before the pandemic.
The Department for Education today published its third annual State of the Nation report, providing an in-depth picture of the experiences of children and young people aged five to 24 throughout the pandemic during the 2020 to 2021 academic year.
The report found that children and young people's subjective well-being showed signs of recovery in 2021, following a reduction in 2020.
However, it did find that reductions in well-being occurred most clearly for both primary and secondary pupils in February 2021, when schools were closed to the majority of pupils.
The report's findings suggest there was a general improvement in well-being for children and young people once pandemic restrictions were relaxed.
Despite the improvements in 2021, there was evidence of 'substantial variation' in well-being during the 2020 to 2021 academic year.
Among secondary pupils, female respondents reported consistently lower well-being than males across all four measures used: happiness, anxiousness, life being worthwhile, and life satisfaction.
Other groups, such as children and young people with SEN, those of an ethnic minority, or those eligible for Free School Meals (FSM), demonstrated more mixed patterns of wellbeing over the course of the year.
The Department for Education have highlighted the fact that more than 8,000 eligible schools and colleges have applied for a senior mental health lead training grant since applications opened, with an additional £3m to be provided to extend this training to more schools and colleges.
They also said that nearly 400 mental health support teams will be accessible to almost three million school and college pupils in England by 2023, surpassing the commitment made in the 2017 mental health green paper.
The charity The Children's Society, whose research is featured in the State of the Nation report, has pointed out that this still means that only 35% of children are covered by mental health support teams.
'Children have endured huge upheaval to their lives throughout the pandemic,' said Mark Russell, chief executive of The Children's Society.
'Our Good Childhood research found most children aged 10 to 17 had shown great resilience: compared to our findings from the lockdown of 2020, children's well-being in our 2021 survey was more in line with pre-pandemic levels.
'The longer-term impact of the pandemic on well-being remains to be seen. However, we did find that 4% – which would be the equivalent of a quarter of a million 10-17 year olds in the population as a whole – had coped less well with the changes of the pandemic and also had low well-being. Both our report and the DfE report highlight groups of children who may have fared less well as a result of the pandemic and who we need to ensure get the right support going forward.'
The charity's The Good Childhood Report 2021 also found that children's happiness with life as a whole, friends, appearance and school was significantly lower in 2018-19 than when the survey began in 2009-10.
'Our long-term research showed there had been a significant decline in children's well-being over the 10 years before the pandemic,' Mr Russell continued.
'Low well-being affects every aspect of a child's life and can have long-term consequences if not addressed. As today's report shows, rates of probable mental health disorders among children and young people remained higher in 2021 than they were before the pandemic.
'We're pleased to see the Government looking at children's well-being in detail and have long been calling for an annual children's well-being measure, but it also has to come with action.
'The commitment to roll-out 400 mental health support teams in schools is a welcome improvement but would still mean only 35% of children are covered. If this was available for all schools and we also had community based early support hubs that children could go to without waiting, we could be helping children before their issues hit crisis point.'