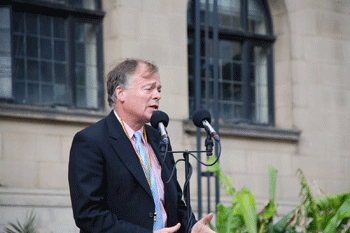 The government's devolution agenda has been characterised by a lack of clear objectives, rushed negotiations, and insufficient openness, according to select committee.
The Communities & Local Government (CLG) Committee welcomes Whitehall's commitment to devolution but urges Government and local leaders to do more to engage the public in devolution proposals, negotiations, and outcomes.
In a report published today the CLG argues there has been a significant lack of public consultation and engagement at all stages of the devolution process, and it calls on local leaders to engage more with the public about devolution deals affecting their areas.
The committee's report, entitled Devolution: The Next Five Years and Beyond, also stresses that this engagement process shouldn't halt once the devolution deals are completed. The public, they say, should be consulted on their experience of how it is working in practice.
To this end, the report recommends that the Government should publish online all information on devolution deals so the public can access a range of details on the proposals, deals, and negotiations.
On the question of who is responsible and accountable for public services, the CLG recommends that the division of roles should be clearly laid out in the final deals.
Elected mayors will be the figureheads of the new combined authorities, but they won't be in charge of everything. This, the CLG report says, must be made clear to the public.
The committee also recommends that the Government makes a clear statement that devolution will take place at different speeds in different areas and that agreed timetables are set out for the negotiation and agreement of a deal.
Finally, the CLG argues that if certain powers are devolved to one area, these same powers should also be made available to other areas.
Clive Betts MP, chair of the Communities and Local Government Committee, said: 'As a Committee, we strongly support the principle of devolution and welcome its prominent place on the Government's agenda. We believe that the current arrangements should only be a first step towards a much bigger devolution settlement and that devolution should be the default across all government departments.
'If we are to achieve this local leaders and the Government must make far greater efforts to communicate with and engage the public so they embrace devolution as a positive development too.
'People rightly want to be involved in discussions and negotiations affecting their communities and local leaders and Government need to up their game to make the devolution process as transparent and engaging as possible.'
Responding to the CLG's report, Local Government Association chairman Lord Porter said: 'We celebrate those places which have achieved devolution deals, but as this report makes clear, these opportunities need to be extended across all areas of the country. Like the Committee, we urge government to keep up the momentum in their discussions with non-metropolitan areas to ensure that all areas of England can benefit.
'Devolution is a massive opportunity to help ensure services are tailored to best meet the needs of local people and we want to see ambition from government departments that matches that of local places in considering the powers devolved and different models of governance appropriate to both cities and county areas.
'Places should also be able to build on their initial deals and take advantage of a broader range of powers to fully capitalise on the opportunities for their communities and businesses.'
Lord Porter also recognises that there is room for more engagement with the public. 'While it is right that devolution deals are not imposed, but negotiated and secured by local places, we recognise the need for greater public engagement throughout the deal-making process and are working with councils to support them in this.'
Visit The MJ (£) to read their comment piece on how important it is for local government to prove it can be trusted.