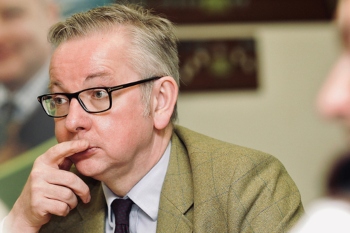 By 2030, every part of England that wants one will have a devolution deal, the Government's long-awaited Levelling Up White Paper has revealed.
The economic blueprint will see nine new county deals, two new combined authorities and a host of new powers for existing metro mayors in England.The Government has also pledged a 'simplified, long-term funding settlement' for devolution, while the UK Shared Prosperity Fund will be decentralised across the whole of the UK.
In existing mayoral areas, Greater Manchester and the West Midlands will become 'trailblazer', with extended powers, providing a blueprint for others to follow. The North East Combined Authority is also set to expand.
Announcing his plans, levelling up secretary Michael Gove claimed the UK economy had been 'like a get firing on only one engine'.
'This White Paper is about ending this historic injustice and calling time on the postcode lottery,' he said.
'This will not be an easy task, and it won't happen overnight, but our 12 new national levelling up missions will drive real change in towns and cities across the UK, so that where you live will no longer determine how far you can go.'
The first nine county deal areas will be:
Cornwall
Derbyshire and Derby
Devon
Plymouth and Torbay
Durham
Hull and East Yorkshire
Leicestershire
Norfolk
Nottinghamshire and Nottingham
Suffolk
There will also be a new Mayoral Combined Authority Deal for York and North Yorkshire, where the county has already struck a unitary deal when it was a pre-requisite of devolution.
As well as its devolution plans, the White Paper sets out plans to increase education and skills attainment, boost R&D, improve transport and broadband and improve pay and employment.
The ambitious cross-departmental plan also promises to increase life expectancy and wellbeing, boost pride in place, increase home ownership and tackle crime.
The Government's twelve 'missions', which it has pledged to meet by 2030 are:
Raising pay, employment and productivity in every area, each containing a globally competitive city
Increasing investment in R&D outside the South East by at least 40%
Raising transport connectivity across the country to the standard of London
Create nationwide gigabit-capable broadband and 4G coverage, with 5G or the majority of the population
Increase reading, writing and maths standards of primary school children
Significantly increase skills training in every part of the UK
Lower the gap in Healthy Life Expectancy between local areas
Improve wellbeing in every area of the UK
Increase pride in place, including satisfaction with town centres and community engagement
Increase first-time home buyers and cut non-decent rented homes by 50%
Cut homicide, serious violence and neighbourhood crime
Give every area that wants one a devolution deal with powers approaching the highest level of devolution and a simplified, long-term funding settlement.