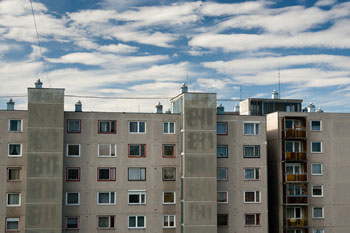 Poorer communities are missing out on a government scheme to improve neighbourhoods, according to new research published by a think tank.
ResPublica found that although more than 200 Neighbourhood Plans have been created - with a further 1,900 being prepared - the vast majority are in more affluent areas.
The ten local authority areas that have the highest proportion of neighbourhoods among the 10% most deprived areas in England, had five or fewer designated neighbourhood plan areas in their district.
However, local authority areas with more than 20 designated neighbourhood plan areas tended to be in the more affluent areas such as Cheshire East, East Devon, South Hams, Wiltshire and Chichester.
Caroline Julian, deputy director of ResPublica, said: 'Deprived communities across Britain are missing out on the chance to improve their surroundings which we know has a range of knock on benefits, including to health.
'Our research shows that how people perceive the beauty of their local area and the quality of their local community – in terms of crime rates and maintenance of the area – are closely linked. People in areas they find unappealing are less likely to see themselves as positively as they could do – harming their ability to find good jobs and live productive lives. Politicians must reach out to people in these areas and empower them to take action through Neighbourhood Plans.'
ResPublica is calling for the reversal of cuts to planning aid and for students taking courses in public planning to be required to help deprived communities with neighbourhood planning.