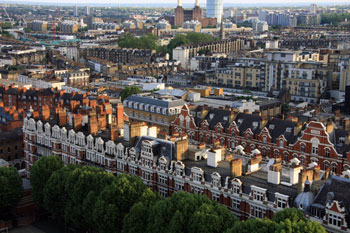 The densification of large estates in London could help deliver thousands of new homes every year to the capital, new study finds.
New research on densification from the Centre for London suggested building more houses on estates could add between 80,000 and 160,000 homes across London over 20 years.
They estimated this would mean between 4,000 and 8,000 homes would be built in London each year – up to 20% of London's annual additional housing target.
The Centre for London, drawing on research carried out in four London boroughs (Lewisham, Barking & Dagenham, Waltham Forest and Hounslow), said three out of the four boroughs could gain an uplift in housing estate capacity of at least 50% by increasing the density of large estates to 'urban' levels.
The think tank did, however, point out that the densification projects are not viable without subsidy, particularly in London's suburbs.
They also added Home Loss Payments should be increased to ensure the fair treatment of tenants in the demolition and densification process.
Responding to the report James Murray, deputy mayor for housing and residential development said: 'The Mayor has already started working with local councils, housing associations and developers on a good practice guide for estate regeneration in London.
'He will also be consulting with Londoners and community groups across the capital, which is one of the key recommendations set out in this Centre for London report.
'Sadiq has been clear that his new guidance will make sure that where demolition is involved, there should be no net loss of social housing, full rights of return for tenants and a fair deal for leaseholders.'