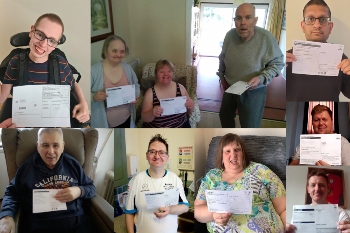 Plans to require voters to show photo ID at polling stations have rightly received criticism in Parliament and further afield. Such a move would prevent thousands of adults in the UK from exercising their democratic right.
Dimensions' Love Your Vote campaign, which aims to make our electoral process more accessible for people with learning disabilities, promoted the voting rights of people with additional needs ahead of the recent local elections. But the proposals contained in the Elections Bill would add, rather than remove, the obstacles to voting which people with learning disabilities already face.
Insisting that voters present ID ignores the experiences of people with learning disabilities, many of whom could be put off voting altogether by this added burden. Moreover, this would reverse much of the good work that has been done so far to make voting more accessible for people with additional needs, and we should be careful to protect these gains so that we can build on them.
Building up barriers
Making voter ID mandatory means excluding people who may find it difficult to obtain and/or use an ID, such as many people with learning disabilities.
While 91% of people in the UK carry some form of ID, the proportion is much lower among people with additional needs, such as those whom Dimensions supports. People with learning disabilities are less likely to have a passport or driver's license, for example. Applying for other forms of ID, even (ironically) a blue badge, can be difficult for some and essentially impossible for others. Although no robust data exists, a small sample of the people Dimensions supports suggests between 20%-50% may currently have no ID.
As the bar to accessing paid support gets ever higher, people with ever more significant learning disabilities are having to survive independently. People – like me - in this position find it hard to manage our money, our health and our homes. We are highly likely to be digitally excluded. Recent data shows us suffering death rates from Covid-19 eight times higher than the general population in large part because information on how to stay safe simply isn't accessible to us.
Government should be in no doubt that whatever the theoretical safeguards, this group – those in need of support but not in receipt of any - will inevitably be the most disenfranchised by any additional barrier blocking our path to voting. For some this will cause anger and distress. Many others will simply be silenced. Having seen how proud so many people with learning disabilities were to cast their vote in May, it is heart-breaking to think that we could soon be robbed of this experience – not to mention, of course, our democratic right.
If it ain't broke...
Reducing the accessibility of voting for those with additional needs is even more shocking given that our electoral system has made good progress in recent years.
Having worked as an observer at my local polling stations last election day, I personally witnessed a very effective process in action. People were asked to provide their name and address, so there is already a system of identification in place.
Polling station staff were also incredibly helpful on the day, even explaining what would happen after the polls closed at 10pm. And throughout the process, security was extremely important. Indeed, voting is overwhelmingly secure in the UK.
So why risk effectively disenfranchising so many people with a so-called solution to a problem which we do not seem to have in the first place? Resources would be better spent elsewhere: improving the accessibility of the voter registration process, for instance, or promoting easy-read manifestoes more prominently. Such changes would improve the way voting works in the UK; forcing voters to produce photo ID at the polling station would not.
Democracy under threat
This attempt to introduce compulsory voter ID will not safeguard our democracy. Instead, it will leave it more vulnerable than ever, risking the rights of more than a million adults in the UK who have learning disabilities.
Our voting system is not perfect, but steps can be made to improve accessibility, and the last election showed the progress that had been made. Should the Elections Bill pass, however, we could follow this step forward by taking two highly damaging steps back.
Dr Mark Brookes MBE is advocacy lead at Dimensions