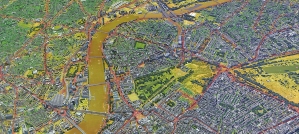 Noise Consultants Ltd has been appointed by the Department of Environment, Food and Rural Affairs (Defra) to lead the development of a noise modelling system capable of preparing national noise maps.
During the 4-year contract Noise Consultants Ltd and its project partners will be developing an online cloud-based system to automate the generation of a noise modelling and exposure database for Defra and other Government stakeholders.
In addition to producing noise maps and noise exposure data in line with existing Government policy and statutory obligations, the system will be capable of supporting wider national and local policy planning, providing the possibility of assessing a range of scenarios. The system is also intended to take in additional road and rail noise data sources beyond those previously mapped, providing a wider evidence base to support future policy making.
The design philosophy will also allow future users across the public sector to access the database through open standards for populating the noise calculation tools of their choice.
The Noise Consultants-led team includes Mott McDonald who will be providing their cloud computing, database design and digital solutions expertise; Acustica who have expertise in noise modelling and noise policy; Stapelfeldt developers of the decoupled LimA noise modelling software; and NGIS who bring expertise in geospatial technology and develop the Oden system.
Following the appointment, James Trow - Managing Director of Noise Consultants Ltd - said: "We are delighted to have been appointed by Defra. This project will provide a significant opportunity to improve our national evidence base andincrease our understanding of the impacts of noise. The system will integrate a wider range of data sources than ever before, with the potential to include increased road and rail infrastructure, and wider digital mapping datasets and assets inventories, offering a more comprehensive view of noise across the country".
As part of the Logika Group of SMEs, Noise Consultants Ltd will draw on expertise from within its sister companies to support the delivery of the noise modelling system, particularly in designing the modelling infrastructure and how this could be harnessed for considering other environmental aspects such as ambient air quality.
If you would like to speak to the team at Noise Consultants Ltd about noise mapping, environmental noise or vibration, please get in touch on 020 3873 4780 or contact@noiseconsultants.co.uk.