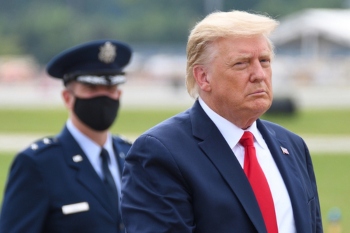 Coventry City Council and its opposition party have distanced themselves from a tweet by an independent councillor, voicing support for Donald Trump.
The tweet was made amidst violence in America after supporters of Trump stormed the Capitol building, which led to four people being killed.
Very statesmanlike from the REAL President. He won but the deep state want a puppet not a man who is for the people. He stands for PEACE. Thank you Mr President. https://t.co/LXQMXJI8IY

— Glenn Williams (@Glenn_Williams1) January 6, 2021
Cllr George Duggins, and Cllr Gary Ridley said: 'As a council, and as individuals, we want to distance ourselves from any remarks made by Cllr Williams.
'Last night's violent protests were an unrelenting attack on democracy and tragically led to four people losing their lives. There can be no excuse for the actions of those involved, or of the outgoing President. Last night the US withstood an effort to stop the American democratic process by mob rule.'
Photo: Evan El-Amin / Shutterstock.com