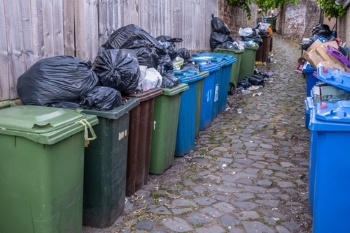 The long-running dispute between Coventry council and local bin lorry drivers has now ended with a pay rise for the drivers worth up to 12.9%.
The pay boost, which comes after six months of industrial action, is worth an estimated £3,600 per year.
It also includes Christmas bonuses worth some £4,000, and the disciplinary charges against Unite Shop Steward Pete Randle have been dropped.
Unite general secretary Sharon Graham said: 'This win shows the new direction of Unite. We will defend our members pay and conditions, however long it takes. This continuous action has delivered real terms pay increases for our members.
'This deal represents a fair and just pay award and all charges against our victimised rep have now been dropped.
'It is quite frankly wrong that our members were forced to take this action against a Labour council, but Unite will always back its members against any employer who refuses to negotiate. I am very proud of our reps and members today.'
Unite's national officer Onay Kasab said: 'Unite members relied on the strength of collective action which has secured yet another win for workers. Congratulations to the Coventry HGV strikers!'
This article first appeared on LAPV.