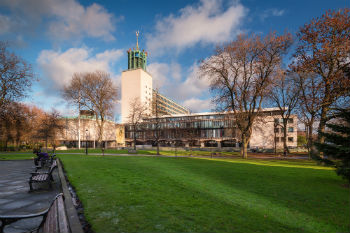 Newcastle council has nearly concluded negotiations to move the courts services to the Civic Centre as part of a programme aimed at raising more than £30m over the next three decades.
The city council has said the negotiations over a long-term lease for HM Courts and Tribunals Service are at an 'advanced stage' and could see the civil and family courts and tribunal hearings move into the centre.
The council is currently carrying out a refurbishment programme designed to turn the Grade II Listed building into an 'efficient and modern working environment'.
They hope the programme will help generate £32m of income over the next 25 years.
'This partnership with our new, long-term tenant not only secures a sustainable future for one of the iconic Grade II Listed buildings in the city, but importantly it helps us generate income that will fund vital front line services for our residents,' said council leader Nick Forbes.
'The Civic Centre belongs to Newcastle and to everyone who lives, works and visits the city, and we were committed to protecting this important asset and enhancing such an iconic building, and making it fit for the 21st century.'
'Our focus is very much on creating a civic quarter in the city centre, through bringing public sector partners and their services together with the council and pooling our resources,' Cllr Forbes continued.
'This not only improves the services we all deliver to our residents and businesses, but puts Civic Centre firmly at the heart of that civic quarter.'
Mark Swales, North East Delivery Director for HM Courts and Tribunals Service (HMCTS) said: 'Subject to necessary agreements, this lease would bring together Civil, Family and Tribunals work in the Civic Centre and help to deliver a Criminal Justice Centre in the city – bringing Magistrates and Crown court work under the same roof in the Combined Court on the Quayside.'