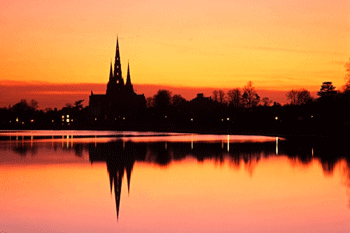 Staffordshire County Council and the local police commissioner have signed a £400m deal with firm Kier Group to unlock the value of empty and underused buildings.
The initial 10-year deal known as the Penda Property Partnership will aim to create greater flexibility and commercial freedom in the drive to make better use of council and police properties.
A joint statement said the deal had the potential to be rolled out with other partners to improve services and bring investment and growth to the county.
Ian Parry, Staffordshire County Council's cabinet member for strategy, finance and corporate issues, said: 'This new partnership will help us tap into the value of poorly used public buildings and raise funding to support key priorities.
'Instead of being mothballed or run half empty the new, fresh approach will see buildings revitalised and marketed to offer new jobs, homes and developments and allow the county council to fund what is important to Staffordshire residents.'
The county's police and crime commissioner Matthew Ellis said: 'This new cross-sector partnership is another significant step giving local people the modern, responsive and accessible public services they need and deserve.
'It will unlock the value of poorly-used public buildings and release resources back into frontline services'
Nigel Turner, Kier executive director of development, property and business services, added: 'This unique partnership takes a fresh approach to achieve the best value and use of property assets of the council and police and allows Kier to demonstrate its breadth of capabilities across our divisions.'