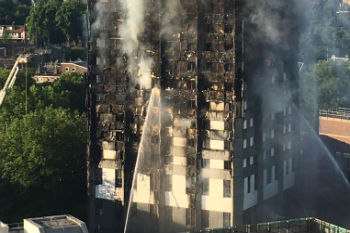 Local authority chiefs have defended the speed at which councils have sent cladding off for testing after the communities secretary raised concerns about delays.
In his update to Parliament on the Grenfell fire, Sajid Javid yesterday said the cladding from 75 high-rise buildings, in 26 local authority areas, had failed a combustibility test.
He said the testing facilities were working 'around the clock' and analysing 100 samples a day, but he urged all councils and housing associations responsible for tall buildings to submit cladding samples for testing.
'The fact that all samples so far have failed underlines the value of the testing programme and the vital importance of submitting samples urgently,' Mr Javid said.
'I am concerned about the speed at which samples are being submitted. I would urge all landlords to submit their samples immediately.'
The Government estimates around 600 tall residential buildings in England could have similar Aluminium Composite Material (ACM) cladding which is thought to have contributed to the Grenfell Towers fire.
Responding to Mr Javid's Parliamentary statement, a spokesperson for the Local Government Association (LGA) said: 'Councils have worked quickly to check cladding on tower blocks where they are the landlord and send samples for independent testing.
'Ensuring buildings are safe, acting quickly on any expert fire safety advice and offering reassurance to residents remains their highest priority.
'The LGA has contacted all of the local authorities which government officials were still expecting samples from.
'Of the overwhelming majority we have been able to speak to so far today, they have either already sent a sample for testing or informed government officials that they do not own any high-rise buildings with ACM cladding in their area.'
The spokesperson said that many samples expected by Government officials from councils are due to arrive from other housing providers.
'As community leaders, councils are working with social and other landlords in their area to make sure all cladding samples are sent for testing as quickly as possible,' the spokesperson continued.
'Our advice to any council, social and other landlord waiting for cladding test results remains that they should be preparing contingency plans so they can implement mitigating measures quickly.'
For more on the Grenfell fire visit The MJ (£).