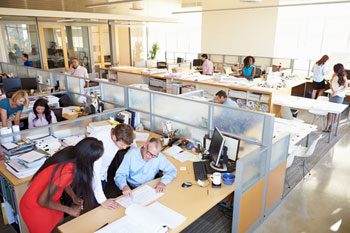 Councils risk wasting money over the long-term by cutting costs in offices and facilities, a leading professional property body has told LocalGov.
Director of UK commercial property at the Royal Institution of Chartered Surveyors (RICS), Paul Bagust, said offices could offer a 'short-term' saving for local authorities but were 'at the centre' of improving staff performance and wellbeing.
His comments came after a poll indicated over two-thirds of council employees wanted improvements to the properties in which they work. A further 92% of those working indoors said offices played a major role in whether they would accept a new job.
Bagust told LocalGov it would now be 'a false economy' for councils to 'cut budgets around facilities' because of 'longer-term ramifications that could include lower productivity and increased staff turnover'.
'Rather than looking at your buildings and facilities as a cost, the approach would be that they're an asset supporting the people,' he said.
Bagust said flexibility was 'really important' in office space and emphasised councils needed to 'adapt' work places to suit different staff preferences on desk use, working hours or office design.
While stating that solutions couldn't come 'off the shelf', Bagust said certain improvements to office space such as dedicated hot-desk areas could still be achieved without too much expense.
'It might be short-term cost but evidence we're receiving from the market is that priorities for lots of businesses are the wellbeing and retention of their people. The real estate is at the centre of that, so they're not cutting it and are looking to invest in it,' Bagust said.