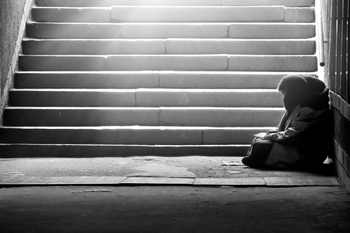 Councils and housing associations have reported it is becoming increasingly harder to work together to reduce homelessness due to welfare reforms, a new survey has revealed.
The research, conducted by the Chartered Institute of Housing (CIH) and the University of Sheffield, found 84% of councils and 70% of housing associations believe welfare changes like the benefit cap are undermining efforts to tackle homelessness.
More than 60% of local authorities also said households being unable to afford their rent due to welfare policy was one of the main reasons for refusing a homelessness nomination.
'This research shows that welfare policy is seriously undermining the work that councils and housing associations can do to reduce homelessness,' said Terrie Alafat, chief executive of the CIH.
'The government has stated its commitment to tackle homelessness and the Homelessness Reduction Act, which comes into effect next year, represents significant progress. But it is also clear that welfare policy is directly undermining that effort.
'Policies like the lower benefit cap are leaving people with significant gaps between the help they get with housing costs and their rent and this research highlights the direct impact that is having on the work councils and housing associations are trying to do together to help those most in need.
Professor David Robinson, from the University of Sheffield, who worked on the project, added: 'The introduction of the Homeless Reduction Act has been widely welcomed. The act gives councils important new responsibilities and powers.
'However, councils cannot tackle homelessness on their own - they need help. Evidence that the vital role that housing associations traditionally play helping councils to reduce homelessness is being undermined is therefore deeply concerning.
'These findings underline why we urgently need a coordinated effort to tackle homelessness.'