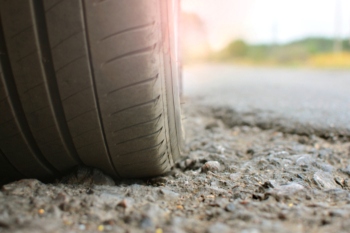 Funding for local road maintenance has been cut by £400m this year, the Local Government Association (LGA) has warned.
It said the reduction in the capital funding allocated to councils in 2021/22 is the equivalent of fixing or preventing over 9.5 million potholes.
The LGA is calling on the Government to use the Spending Review to plug the £400m funding gap and allocate an additional £500m per year to councils for road repairs.
It also wants future capital allocations to take into account the significant inflation rates in highways construction and maintenance costs.
Cllr David Renard, transport spokesperson for the LGA, said: 'Councils are working hard to keep our roads safe and resilient, repairing potholes as quickly as they can. However, it would already take £10bn and more than a decade to clear the current local roads repair backlog, with the COVID-19 pandemic and subsequent cancellation of key planned works risking extending this backlog further.
'With long-term and consistent investment in local road maintenance in the Spending Review, councils can embark on the widespread improvement of our roads that is desperately needed, to the benefit of all road users up and down the country, including cyclists.'
RAC head of roads policy Nicholas Lyes: 'We continue to call on the Treasury to ringfence a proportion of existing fuel duty revenues for local road maintenance. With guaranteed funding, councils would be able to better plan their maintenance schedules and focus not only on reactive repairs but on preventing their roads from crumbling.'