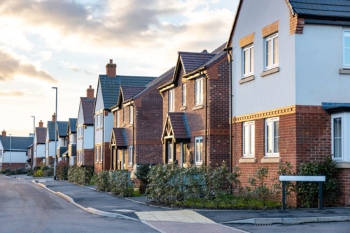 The number of people on council housing waiting lists could double next year as COVID-related support schemes come to an end, a new report has said today.
The research also reveals that one in 10 households are stuck on waiting lists for over five years due to the 'chronic shortage' of affordable homes.
Commissioned by the Local Government Association, the Association of Retained Council Housing, and National Federation of ALMOs, the research sets out the case for building 100,000 green social homes for rent each year.
It argues that giving councils the funding and power to build this amount of social housing would achieve a third of the Government's annual housing target and improve the public finances over 30 years by £24.5bn.
Cllr David Renard, LGA housing spokesperson, said: 'Social housing gives families the security and stability of a decent home, as well as being a route to owning your own home through Right to Buy.
'Now is the time to reverse the decline in council housing over the past few decades. The benefits are clear – a programme of 100,000 social homes a year would shorten council housing waiting lists, reduce homelessness and cut carbon emissions, while delivering a multi-billion long-term boost to the economy.
The report finds social rent is the most appropriate form of housing for 1.6 million households.
Sarita-Marie Rehman Wall, NFA chair and tenant board member, said: 'Our national housing shortage isn't just hitting one small group. It is creating hardship for all kinds of people in all walks of life, whether we're talking about young people just heading out into adult or family life, or older people whose income drops at the very time when their need for support and the right kind of home increases.'
The high number of families trying to join councils' housing waiting lists has also been highlighted by the local government and social care ombudsman today.