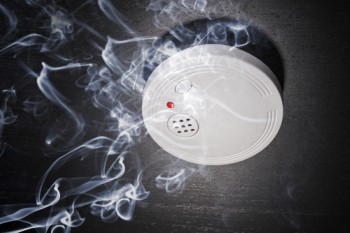 Council leaders have warned that almost 40% of battery-powered smoke alarms failed to activate in residential fires last year.
The Local Government Association (LGA) found the 'failure rate' of battery-operated alarms is twice that of mains-operated ones at between 38-40%.
The figures show that the main reason for a smoke alarm failing to work is due to the fire not reaching the detector (45% of cases). However, missing or faulty batteries also account for a fifth of the alarms not working.
Cllr Ian Stephens, chair of the LGA's Fire Services Management Committee, said: 'Smoke alarm ownership has risen over the years to more than 90 per cent, but this encouraging trend is being dangerously undermined if they don't activate due to faulty batteries.
'The run-up to the festive season is a timely reminder of the importance of fire safety, but working batteries aren't just for toys at Christmas – they are needed in smoke alarms all-year round.'