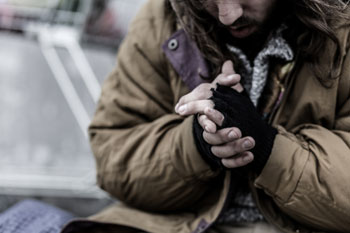 Councils could save millions of pounds by partnering with credit unions to offer interest free loans to families at risk of eviction, a new study has found.
The study, published in Public Money & Management, found that a partnership between Lewisham Council and Lewisham Plus Credit Union saved over 300 families from eviction by offering vulnerable families an interest free loan.
The grant scheme also saved the council £1m in costs such as providing temporary accommodation.
The study, which was funded by The British Academy, says this scheme could be replicated by councils across the country, playing an important role in preventing homelessness.
Bill Lee, who is a professor at Sheffield University Management School and led the study, said: 'Schemes like this could be rolled out across the country as many credit unions have high levels of skills in helping vulnerable people manage their very limited finances.
'However, such schemes need to be underwritten by local authorities or central government, so that credit unions do not carry the burden of loss if people on low incomes are not able to repay the loans.'
Professor Lee also said the use of credit unions has helped tackle financial and social exclusion, as well as preventing homelessness.