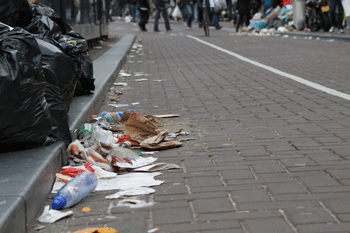 Councils should encourage people to keep the streets clean rather than just relying on charges and fines to make up shortfalls in budgets, according to the findings of a new report.
A new report from APSE and NLGN found that while the majority of councils (93%) have cut their street scene and public realm budgets, different approaches could help them cope with reduced funding.
'Park Life, Street Life: Managing demand in the public realm argues that behavioural change tools and techniques could be more effective than enforcement action.
NLGN director Simon Parker said: 'There is a real danger that budget cuts will force cash strapped councils to rely on charges and fines to keep their areas clean and green. But there is a better way forward.
'Leading local authorities are innovating to persuade people to drop less litter in the first place, and persuading communities and businesses to take more responsibility for the local area.'
APSE chief executive Paul O'Brien said: 'We are not suggesting that cuts to public realm can be simply managed away. Cuts in these services remain deeply damaging. However as an alternative to salami slicing services we need councils to be much more innovative about tackling the demand side of the public services equation.'
The report highlights several examples of best practice including Rochford Borough Council promising to make a donation to charity if the streets remained clean, which saw the amount of rubbish dropped reduce by 42% over three months.
Wirral Borough Council also reduced dog fouling by nearly half using posters that depicted a pair of glow-in-the-dark eyes to encourage people to pick up and dispose of dog mess.