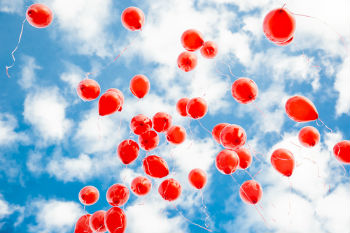 Every council has been urged to ban all balloon releases after new research found balloon litter on beaches has increased by more than 50% in a year.
The Marine Conservation Society (MCS) found the amount of balloon related litter on UK beaches increased by 53.5% in 2016, when compared to the previous year.
It said that while 50 local authorities have a ban on balloon and lantern releases on their land, all intentional balloon releases should be stopped.
Emma Cunningham, pollution campaigns officer at the MCS: 'There's an awful lot of confusion over balloons, especially what they're made of and how they break down. Some people believe that because latex is natural, balloons made of it are harmless once let go. This just isn't the case. Latex may last for up to four years in the marine environment.
'The latest research also shows that only around 13% of balloons burst into small pieces whilst more than 80% come down intact. This could explain the rise in balloon litter levels we have seen on beaches, which will have a great impact on wildlife.'
The MCS is calling on members of the public to sign up to their online pledge page to show support for councils banning balloon and lantern releases.