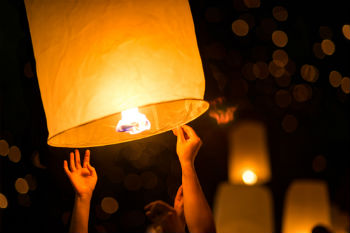 Worcester City Council has become the latest authority to ban the release of balloons and sky lanterns from its building and land.
The council said the policy will help protect animals from the harmful effects the items can have on them, and avoid their potential risk as a fire hazard.
It pointed to an incident in 2013 where a sky lantern caused a fire which resulted in £6m of damage at a recycling plant in the West Midlands.
The council's cabinet member for clean, green and leisure services, cllr Jabba Riaz, said: 'We understand why people might view balloons and sky lanterns as a popular addition to social gatherings and events. However, our wildlife is clearly paying a very heavy price for this type of spectacle, and lanterns have the potential to cause serious fires.
'We have therefore decided on an outright ban of their release on all council-owned land.'
The RSPCA, National Farmer's Union, Marine Conservation Society and Chief Fire Officers Association (CFOA) are calling for an outright ban of sky lanterns.