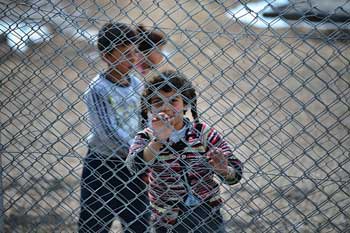 Unaccompanied children seeking asylum will be dispersed across the country in a bid to relieve the strain on those councils caring for a large number.
The new scheme, which gets underway in July, has been launched following concerns that the number of child refugees have been heavily concentrated in a few places such as Kent.
However, immigration minister James Brokenshire warned that the Government may intervene with new legislation if councils fail to take on their share of lone children.
Town hall chiefs have welcomed the announcement, saying it will provide children with better access to services and support.
Chairman of the Local Government Association's Asylum, Refugee and Migration Task Group, cllr David Simmonds, said: 'We have long argued that placements for unaccompanied children need to be carefully planned at a national level to ensure that there is sufficient funding, care placements and support services available, and this simply isn't the case while a small number of councils are left to look after large numbers of refugee children.'
However, the LGA called on the Government to provide more clarity on the funding available for councils to look after unaccompanied children seeking asylum.
Cllr Simmonds added: 'We are concerned that the Government is still unable to clarify the long-term funding arrangements for councils looking after unaccompanied children, or provide any detail of how a national dispersal mechanism will operate.
'No council should be made to choose between supporting unaccompanied asylum seeking children and providing vital services for their local community, and these outstanding questions must be resolved as soon as possible.'
The LGA also warned that any new scheme must be aligned and funded alongside existing schemes for resettling refugees and unaccompanied asylum seeking children to ensure there is sufficient capacity to support vulnerable people.