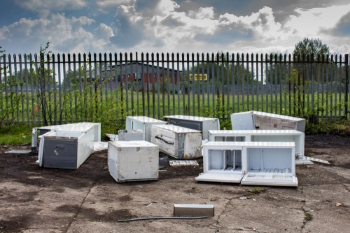 The Government has proposed banning local authorities from charging for the disposal of DIY waste from households.
Currently, around a third of local authorities charge for the disposal of waste such as plasterboards, bricks and bath units.
Under the new proposals, such charges would be banned. The Department for Environment, Food & Rural Affairs (Defra) argues that this would help reduce the number of fly-tipping incidents.
'When it comes to fly-tipping, enough is enough. These appalling incidents cost us £392m a year and it is time to put a stop to them,' said environment minister Jo Churchill.
'I want to make sure that recycling and the correct disposal of rubbish is free, accessible and easy for householders. No one should be tempted to fly tip or turn to waste criminals and rogue operators.'
Defra also launched a call for evidence on the use of booking systems at recycling centres amid concerns these could be making it harder for people to dispose of their waste and increasing the risk of fly-tipping.
New grants totalling £450,000 will also be available to local authorities to help them trial innovative ways to help stop fly-tipping – a crime that increased by 16% during lockdown. In 2020/21, there were 1.13 million fly-tipping incidents.
In response to the proposals, Cllr David Renard, environment spokesperson for the Local Government Association (LGA), said that councils were 'best placed to decide what works best for their areas.'
'The disposal of non-household waste, such as DIY waste and tyres, is a non-statutory duty. As a result, some councils have had to introduce charges for this waste due to the rising costs of providing the service and the financial pressure they are under,' he said.
'Money raised from charges goes back into services so councils can continue to offer disposal facilities for these materials to residents, who would otherwise find them difficult to get rid of and will ensure that the system is not abused by those seeking to dispose of trade waste for free.'
A LARAC spokesperson commented: 'This proposal was not included in any of the consultations last year and has not received the same scrutiny through an impact assessment or widespread debate on any consequences.
'Whilst removing these charges reduces the cost on individual householders, now local taxpayers will have to cover the cost of these materials with increased processing costs at the recycling centres which are paid for out of council tax.'