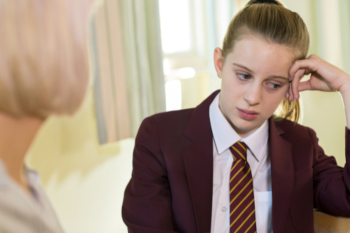 Local authorities should establish forums where schools and other local services could convene to plan support for vulnerable pupils at risk of expulsion, according to a landmark review.
The recommendation was one of 30 such suggestions – all accepted in principle by the Government – made by Edward Timpson in his report on exclusions and school accountability.
While 85% of all mainstream schools did not expel a single child in 2016/17, the Timpson Review found that 0.2% of schools expelled more than 10 pupils in the same year.
It also revealed that 78% of permanent exclusions were issued to children with special educational needs or who were classified as in need or eligible for free school meals.
The review discovered that certain ethnic groups, including Bangladeshi and Indian pupils, have lower rates of exclusion than White British pupils, while others, such as Black Caribbean and Mixed White and Black Caribbean pupils, had higher rates.
'Throughout this review I have found too much variation in the use of exclusions and too many missed opportunities for children to remain in the education that best suits their needs,' said Mr Timpson.
'Although I did see examples of schools using exclusions appropriately and effectively, there is clear room for improvement and everyone – from teachers and parents, the Department for Education and Ofsted, to local authorities and children's services – has their part to play.'
Mr Timpson found evidence of a small minority of schools 'off-rolling' – a practice which sees children removed from the school register without a formal exclusion.
He warned that such behaviour can push children out of education altogether and can present safeguarding risks.
As well as calling for councils to establish forums for supporting vulnerable pupils, the report stresses the importance of making early intervention the norm and of school leaders working together.
It also emphasises that exclusion should be the start of something new and positive.
'Exclusion should not be considered the end point for any child; it has to be the start of something new and positive – with alternative provision offering smaller class sizes and tailored support,' Mr Timpson said.
'We also need to support those most at risk of exclusion, taking action before exclusion happens,' he continued.
'Too many children can fall through the cracks, so I want schools to be accountable for the pupils they exclude, alongside tackling the practice of illegal off-rolling.
'This is not an easy answer, but it is one that will help the most vulnerable children in our society to fulfil their potential.'
Responding to the report, Anna Feuchtwang, chief executive of the National Children's Bureau, said: 'The Timpson Review of exclusions comes at crucial time for our most vulnerable children: permanent exclusions are on the rise; a growing number of children are being educated in pupil referral units; and an increasing number of parents are seeing home education as the only option for their child with special educational needs.'
'The Review has shone an important light on the more shadowy practices in our education system,' she continued.
'It has made important recommendations about greater monitoring of schools' use of alternative provision, better recording of why a child leaves a school, and stronger checks carried out during Ofsted inspections for off-rolling.
'We welcome the Government's indication that they will accept these recommendations and urge them to set out a clear timeframe for implementation.' ?