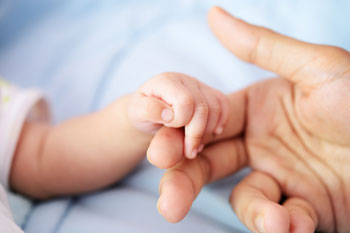 Councils are to receive £30m to cover the costs of finding adoptive parents outside local authority boundaries.
The funding - due to be announced in Wednesday's post-election Budget – is designed to speed up the adoptive process, which is currently thought to take 18 months on average per child.
Local authorities or the voluntary sector currently pay £27,000 to find an adoptive parent outside their district.
The announcement comes as progress continues to be made on the Government's education and adoption bill, which could force town halls to combine their adoption services if they do not do so themselves.
Prime minister David Cameron said: 'I am determined to tear down the barriers to children in care being found loving adoptive parents. The average time it takes to place a child with a new family has been falling and I am delighted we are able to offer this funding to try to ensure it falls further.'
Chancellor George Osborne added: 'We cannot sit by when so many children are waiting so long to find a stable, loving home, particularly when there are parents out there who want to adopt. It just isn't good enough.
'It shouldn't matter where those families might live. This funding will cover the fees that local authorities have to pay when families are found from other areas, and I hope will mean many more children are adopted more quickly.'
The British Association for Adoption & Fostering welcomed the funding but warned of an 'urgent' need to acknowledge many adoptive children have a range of issues requiring support. It also highlighted the 'troubling' fall in the use of adoption as an intervention method.