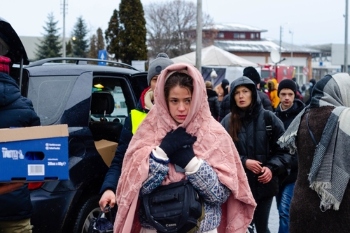 A new report has called on the Government to take 'urgent measures' to support hosts, local authorities and businesses in their response to the Ukrainian refugee crisis in order to tackle exploitation.
The report is based on a rapid evidence-gathering roundtable of over 100 experts from governmental organisations and sectors including law enforcement, healthcare, industry, academia and labour market enforcement, convened by UCL academics and the Independent Anti-Slavery Commissioner (IASC), Dame Sara Thornton.
The roundtable described the UK's response to the Ukrainian refugee crisis as 'lacking in clarity, resourcing and accountability,' and it warned that the 'hostile environment' and its legacies created a difficult climate in which to respond to the crisis.
It participants also warned that local authorities were likely to struggle to meet the housing needs of refugees from Ukraine who are not provided accommodation under their visas or whose Homes for Ukraine placements break down.
The roundtable also identified a shortage of helpful official information and guidance for refugees, local authorities, hosts and businesses.
The report's lead author Dr Ella Cockbain, UCL Department of Security & Crime Science, said: 'There was clear consensus among experts from across different backgrounds that new risks specific to this war are interacting with existing systemic issues in the UK, putting many refugees from Ukraine at heightened risk of human trafficking and exploitation – both on the way to the UK and once here.
'Policy decisions can make a vital difference between building resilience and providing access to much needed rights and support, and actively creating and exacerbating risks to already marginalised and vulnerable groups.
'Both improved crisis responses and longer-term strategic planning are vital in reducing the risk of refugees from Ukraine being trafficked and exploited in the UK. Simply warning people about human trafficking and modern slavery is not enough, they need to be given safer, better options and access to vital support if things go wrong.'
Dame Sara Thornton, Independent Anti-Slavery Commissioner, said: 'The UK response via the Homes for Ukraine Scheme has demonstrated the public's willingness to assist and support those who have been forcibly displaced.
'As this scheme and other initiatives progress it is vitally important that we put systematic measures in place to ensure that the risks of exploitation do not become a reality. The immediate response is important, but we also need to think about the long term.
'What we must do now is put in place systematic prevention and protection measures to ensure the risks of trafficking and exploitation do not become a reality. I have been pleased to support this important work, which I hope will inform both the immediate and long-term response. It is also vitally important that the learning extends to future humanitarian crises.'