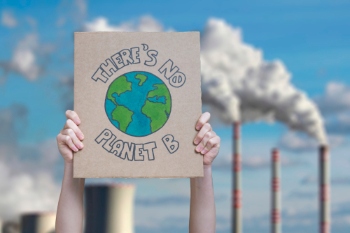 Progress needs to be accelerated in every local area if the UK's climate and nature targets are to be met, climate campaigners say.
A new report from Friends of the Earth and the climate charity Ashden argues that local authorities are 'crucial' to helping the UK tackle the climate emergency.
Most councils have now declared a climate emergency and 85% have formulated climate action plans.
However, the study warns that the quality and scale of ambition still varies greatly across the country in large part because of a lack of clarity from the Government about the role of councils in the journey to net zero.
'Whether it's declaring a climate emergency or producing a plan to curb climate and nature breakdown, most local authorities have shown they want to do more to protect our planet. But in spite of this, we're still not seeing local progress at the rate needed to halt the worst climate impacts,' said Sandra Bell, campaigner at Friends of the Earth.
'For many councils, it's a question of funding and powers, both of which are in short supply. But we have identified a huge number of ways that local authorities can accelerate climate progress where they operate. It's vital that councils use the powers and resources they have now to drive things forward, while lobbying Government for more support in the meantime.'
The report draws together a set of case studies – spanning areas such as nature restoration, energy efficiency and transport – which showcase the work of 40 local authorities who have implemented successful initiatives in response to climate change.
'It's inspiring to see how councils have overcome some of their own local challenges with creative and practical climate solutions, and we hope that others will use these examples as the springboard to further their own climate ambitions,' said Ms. Bell.
Harriet Lamb, CEO of climate charity Ashden, said: 'Behind the scenes, local authorities are often doing the climate heavy-lifting, engaging communities and seeking to cut carbon in neighbourhoods. They are trialling new initiatives from raising funds through community bonds to training people in the skills of tomorrow such as for retrofitting homes or planting parklets. These initiatives while being good for the planet also have wider benefits – such as improving health when air quality improves through fewer private cars, or warmer homes and lower fuel bills from insulating homes.'