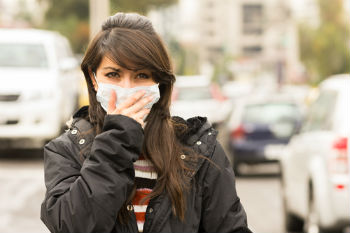 A progressive think tank has called on councils to do more to tackle pollution as it warns 'killer fumes' are blighting UK regional cities.
A new report from IPPR North has revealed ahead of the release of the Government's clean air strategy later this month that the UK's regional cities are in breach of the legal limits on air quality by up to 150%.
Gearing up for the transition: The role of transport in a Northern energy strategy warned that while London's air quality has risen on the political agenda, pollution in the north of England 'threatens the lives of children and adults'.
Teesside and the North West & Merseyside zones, for example, are the third and fourth regions in the UK with the filthiest air, breaching the legal limit of toxic NO2 concentrations by 150%.
Around 40,000 deaths per year in the UK are attributable to exposure to outdoor air pollution, with an estimated overall economic cost in excess of 3.7% of GDP.
The Government has been under pressure to do more to tackle air pollution after the courts ruled previous plans to improve air quality were illegal.
In response to the court ruling, Whitehall published draft plans to introduce - among other measures - compulsory clean air zones in certain cities where targeted action could be taken to improve air quality.
However, Professor David Begg, the former chairman of the Government's commission for integrated transport, recently said the Government's plans will 'fail' unless they do more to tackle congestion.
In an analysis for the sustainable transport campaign Greener Journeys, Professor Begg found a halving of average city traffic speeds leads to a 50% increase in harmful emissions from larger vehicles as they crawl along busy urban roads.
In nose-to-tail traffic, NOx emissions are four times greater than they are in free flow traffic.
Congestion in the UK's largest cities is 14% worse than five years ago, Professor Begg's report found, and traffic speeds are forecast to fall by almost 5mph from 17mph to an average of 12mph by 2030, and significantly slower in peak hours.
IPPR North's report also identified congestion as a serious issue in the north. It estimates the cost of congestion in Manchester and Liverpool alone in 2015 at £2bn.
The think tank concluded their report by calling on Whitehall, local authorities and transport bodies to 'radically improve' green public transport links, especially rail connections and hydrogen-powered trains.
They should also pledge to phase out diesel cars over the coming years and introduce a new car scrappage scheme, the report said, in part to help spur the electric car market.
On current projections, only 5% of UK cars will be powered by electricity rather than petrol or diesel by 2030.
'The evidence shows toxic air is killing up to 40,000 children and adults a year,' said Darren Baxter, researcher at IPPR North.
'This is one of the biggest problems of our time, but too little attention is paid to this key issue, especially outside the capital.
'To prevent more avoidable deaths, we need to see big incentives for those buying a car to go electric, funded in part by a tax on the most-polluting vehicles, as well as seeing a real commitment by councils and the department for transport to make clean air a top priority.
'By taking the killer air crisis seriously, we can prevent many unnecessary deaths and ill-health, especially in our children, while preparing the way for a Northern green jobs revolution.'