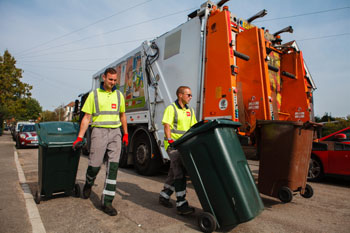 Most councils will be able to meet the EU's recycling target at no extra cost, according to waste management experts.
But the Environmental Services Association says they will only be able to do so if they make changes to services which could include less frequent collections.
In a new report the association says all materials collected for recycling should be turned into new products.
It says the current weight-based system incentivises the collection of heavy low value materials such as garden waste which could be composted.
The ESA's executive director Jacob Hayler said: 'The UK is struggling to meet the EU's existing targets for 50% household recycling.
'This is largely due to a historic lack of funding and policy support in England – particularly on end-markets for recyclates – essential to driving recycling rates higher.
'In all scenarios there will be a need to manage waste that cannot be practically or economically recycled.
'Black bag waste is estimated to be as much as 9.5 million tonnes by 2030, enough to fill Wembley stadium over nine times right up to the roof.'