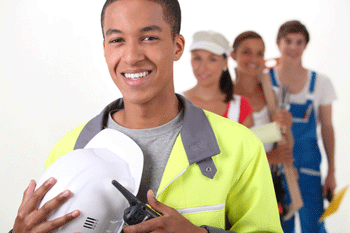 Councils have warned that a growing skills crisis in the construction industry could undermine government plans to build more affordable homes.
According to new research by the Local Government Association (LGA), the number of people gaining the necessary qualifications to work is falling while the demand for workers increases.
The LGA estimates there were 58% fewer completed construction apprenticeships last year than in 2009 and has called on the Government to work with councils and the construction industry to develop a Skills to Build strategy to tackle the issue.
'If we are to see the homes desperately needed across the country built and jobs and apprenticeships created, councils must be given a leading role,' said chair of the LGA's housing board, Cllr Peter Box.
'Skills demand will always vary significantly across the country.
'For example, the North West is desperate for bricklayers while the West Midlands has a higher demand for wood trades and interior fitters.'
Glasgow City Council is also doing its bit to help homeowners after approving a new mortgage scheme.
The two-year pilot scheme will see the council and the Glasgow Credit Union lend up to £4m in mortgages worth 100% of the value of the property.
'This is a fantastic scheme, giving people in Glasgow the chance to own their home when otherwise they could not,' said council leader, Cllr Gordon Matheson.