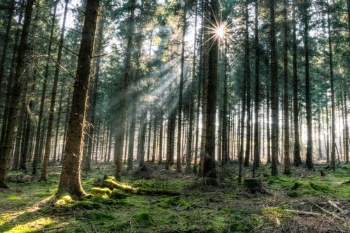 Six local authorities in the north east have joined forces with environmental organisations to plant a new forest.
The initiative aims to plant up to 500 hectares?of trees across Newcastle, Gateshead, North and South Tyneside, Sunderland and Durham by 2025.
Carried out in partnership with Defra and England Community Forests, the long-term goal is?to?increase canopy cover?across the?north east?to 30% by 2050 – almost double the current national average.
Forestry minister Lord Goldsmith commented: 'I am delighted to welcome the North East Community Forest to the expanding network of Community Forests across England. Supported by our £640m Nature for Climate Fund, we will plant many thousands of trees and help rewild areas that are most in need.'
Around 35 football pitches worth of trees will be planted in the first year thanks to £480,000 in funding from Defra's Nature for Climate Fund.
Cllr Clare Penny-Evans, Newcastle City Council's cabinet member for climate change and public safety, said that trees and woodlands are of 'incredible importance to the people of the north east.
'They help us create liveable and sustainable communities, contributing to our efforts to tackle climate change, supporting economic and social regeneration, and – particularly in a year when we've all spent more time at home – providing welcome opportunities for relaxation and leisure,' she said.
'Independently, the region's councils have been working towards their own planting targets, with some great successes, but in coming together and becoming the North East Community Forest, we can supercharge those ambitions for the benefit of all.'
Cllr Penny-Evans continued: 'If trees are planted in the right place, we know that we can reduce the risk of flooding, create new habitat for wildlife, improve air quality, provide positive impacts on human health and wellbeing, boost the economy, provide new jobs, provide timber for sustainable building and energy production and store thousands of tonnes of carbon.
'And not only will this protect and enhance our existing tree stock, green our streets and create woodland in our cities, towns and villages, it will give some of our more deprived neighbourhoods access to nature and improve community wellbeing in many ways.'