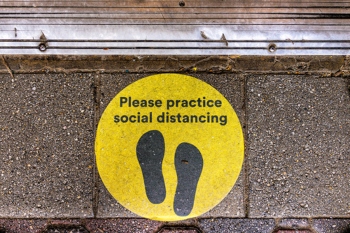 Councils will be given half of a £60m cash pot to help them enforce coronavirus restrictions.
The £30m, which works out as less than £100,000 per council on average, will allow local authorities to increase their compliance work and enforcement checks on businesses, including by employing marshals.
Marshals will not be able to impose fixed penalty fines nor be given an enforcement role, which will continue to be the role of the police and designated council enforcement officers.
Instead, they will be encouraged to work with businesses on queue management, direct pedestrians and support social distancing in busy public areas, remind members of the public to wear a face covering where required and help with the regular cleaning of touch points.
Councils were originally told that no extra funding would be made available for COVID marshals.
A report by the cross-government COVID-19 national foresight group recently warned that marshals would be 'at risk of physical and emotional harm' and of contracting the virus.