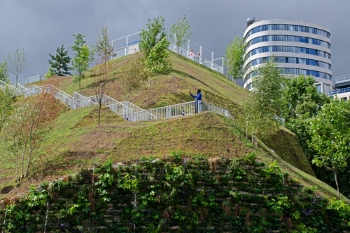 Westminster City Council's deputy leader has resigned as the cost of the Marble Arch Mound almost doubles.
A part of the council's wider £150m investment in the Oxford Street District, the Mound was designed to encourage more visitors to the area.
The initiative was supposed to cost £3.3m. However, the total cost has risen to £6m – an increase council leader Rachael Robathan describes as 'totally unacceptable'.
Deputy leader, Melvyn Caplan, who led the Mound project, has resigned and an internal review has been instigated.
'The Mound opened too early, and we have apologised for that. It has become clear that costs have risen more than anticipated and that is totally unacceptable,' said Cllr Robathan.
'We are determined to continue our hard work to restore our city's vibrancy, bring back visitors and ensure people can keep their jobs. Doing nothing was never an option. So when the Mound fully reopens in September, I hope that people will come and see it for themselves,' she continued.
'The Mound may delight or divide views and that's ok, but we're confident that in the end it will fulfil its original brief - to get people back into the West End and remind them of why this is a world class City.'
Image: Karl Nesh / Shutterstock.com