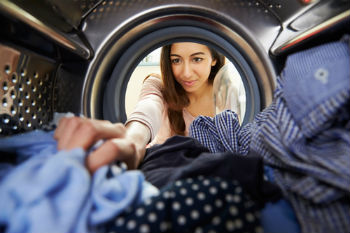 Faulty tumble dryers are responsible for thousands of fires every year risking the lives of millions of people, council leaders have warned.
The Local Government Association (LGA) is calling on manufactures to urgently recall dangerous tumble dryers after new figures show firefighter are attending three fires a day caused by the appliances.
The faulty tumble dryers have been prone to bursting into flames due to excess fluff contacting heating elements. An inquest has been opened into the deaths of two men who died after a tumble dryer caught fire.
The LGA is also calling for all white goods to have fire-proof markings on them so they can be identified more easily if they are damaged after causing a fire.
Cllr Jeremy Hilton, chair of the LGA's Fire Services Management Committee, said: 'People using faulty tumble dryers are unwittingly playing Russian roulette and leading manufacturers need to recall affected models as soon as possible to protect their customers.
'Firefighters are attending tumble dryer fires three times a day, which is alarming. These defective products are endangering lives, causing thousands of pounds of damage to homes and making people homeless.
'People's safety must be the priority. It's been months since some manufacturers issued safety warnings over their tumble dryers but they need to be recalled as these appliances are still causing fires - until they do so, consumers continue to risk falling victim to a devastating and tragic house fire.'