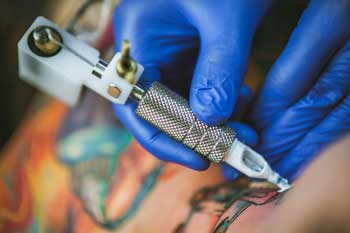 Town hall chiefs have warned they will take the toughest action possible against rogue tattooists in a bid to protect young people from the health risks associated with illegal tattoos.
The Local Government Association (LGA) said environmental health teams across the country are raiding illegal tattooists, some of which are advertising their services on social media.
It warns young people can expose themselves to hepatitis, HIV, bacterial skin infections, blood poisoning and scarring if they visit a tattooist who hasn't registered with their local council, or buy a DIY kit online.
'It is extremely concerning that rogue operators are increasingly exploiting children's and teenagers' urges to copy celebrities and have tattoos. Social media sites also need to do much more to warn about the dangers,' said Cllr Tony Page, the LGA's licensing spokesman.
'We urge parents to be vigilant and explain to their children just how dangerous tattooing can be.'
The LGA warned that tattooists who break the law could face fines of up to £20,000 or a prison sentence.