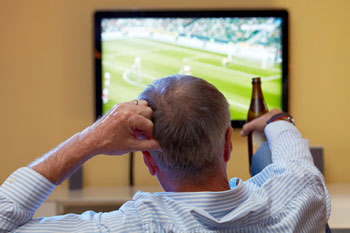 Local government leaders have called on the footballing community to raise awareness of domestic abuse as studies reveal a correlation between England matches and violence against women.
Studies conducted by the National Centre for Domestic Violence, the National Police Chiefs Council and the BBC have revealed that during the 2010 World Cup cases of domestic violence rose by an average of 25% after an England match.
In order to help fight this ahead of England's World Cup campaign in Russia, the Local Government Association (LGA) has thrown their support behind the Women's Aid campaign, 'Football United Against Domestic Violence.'
'While the vast majority of those watching football games are not in any way involved in domestic abuse, there is a small minority who will become more violent and put others at risk during this time,' said Cllr Simon Blackburn, chair of the LGA's Safer and Stronger Communities Board.
'It is particularly important we tackle domestic abuse head on, because so many children and young people will be looking to footballers as role models, especially during the World Cup.
'This is a good opportunity to help teach younger people about healthy relationships and how to treat one another with respect.'
Katie Ghose, chief executive of Women's Aid, said: 'Since 2014, our Football United Against Domestic Violence campaign has worked with football clubs, the FA, the Premier League and BT Sport to stand together against domestic abuse and call out the sexist attitudes and behaviour that some fans still exhibit.
'Categorically, football does not cause domestic abuse, the behaviour and actions of abusers who exert power and control over their victims cause domestic abuse.
'However, domestic abuse does not happen in a cultural vacuum. The sexist attitudes, chants and behaviour at football matches encourage an environment in which women are belittled and demeaned.'
'Football is part of our national culture, enjoyed by millions of men, women and children every week,' she continued.
'The World Cup is a time when supporters from all clubs come together in support of their national team. That's why we're calling for the football community to stand united against domestic abuse and sexism this World Cup.
'Together, we can send out the powerful message that domestic abuse is always unacceptable and that there is no place for violence in football whether on or off the pitch.'