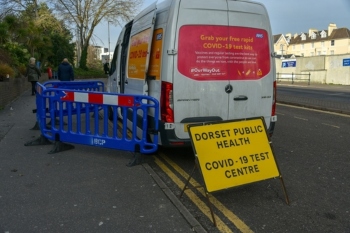 Councils have warned they will be forced to stand down public health teams unless the Government extends local outbreak management funding.
In a joint statement, the Local Government Association (LGA) and the Association of Directors of Public Health (ADPH) said the Living with COVID strategy must include funding for local public health teams to manage outbreaks in their areas.
The Contain Outbreak Management Fund (COMF) has provided local authorities in England with £400m to support local public health but is due to end at the end of next month.
The LGA and ADPH are calling for this funding to be extended to enable councils to tackle new variants and ensure schools and care homes could have access to testing.
Cllr David Fothergill, chairman of the LGA's Community Wellbeing Board, said: 'As national systems are scaled back, it's important that local public health teams still have the tools they need so they can respond to new variants and tackle outbreaks, particularly in higher risk settings. This won't require the same level of funding as the Government has provided so far, but an extension of part of the Contain Outbreak Management Fund is vital so councils can continue this work and ensure staff with expertise in this area are retained.
'As the Government prepares its Living with COVID strategy, councils need long term clarity about plans to protect vulnerable groups and at risk settings. We also want to work with Government to tackle the impact that the pandemic has caused to our workforce so we are more resilient for the future.'
Public health directors have also warned of the dangers of ending free access to COVID-19 testing.