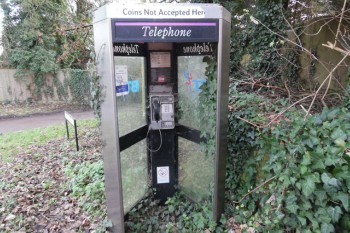 Council chiefs are calling on the Government to scrap 'out-of-date' legislation which enables companies to install telephone boxes without planning permission.
The Local Government Association (LGA) has warned high streets are becoming cluttered with so-called 'Trojan' telephone boxes which are essentially just advertising billboards.
A sample of 12 council areas shows a combined rise of 927% in applications for telephone kiosks under permitted development rules between 2015 and 2017 - despite the fact that in the digital age most people own mobile phones.
Current legislation states companies only need a licence from Ofcom to install a telephone box. Councils can object based on design and appearance but in cases where the applicant appeals, the final decision would be made by the Planning Inspectorate.
The LGA says telephone boxes are increasingly only being used for advertising and are becoming an 'eyesore' for residents. They are also regularly targeted by vandals.
Councils are currently powerless to remove unwanted telephone boxes.
'The rise of the smartphone and digital age has seen the telephone box become a largely obsolete relic of a bygone era,' said Cllr Martin Tett, the LGA's Planning spokesman.
'While there is still a limited need for some telephone boxes in our town centres and cities, for example for emergencies, the number of applications councils have seen is simply staggering.
'Companies are exploiting a loophole in the law to allow what is tantamount to Trojan telephone boxes being used as advertising spaces rather than the original purpose of providing a place for people to use a phone.
'As a result pedestrians are being bombarded with a series of eyesores that blight the public highway.
'Councils are currently powerless to act, so we want the Government to overturn the existing out-of-date legislation and give local authorities the ability to take action where this is an issue.'
Photo: ©David Hillas